Life Events with St Nicolas
As a church community, we are here to accompany you at every stage of your life's journey: celebrating your wedding with you, baptising and confirming you and your children, and providing comfort and support in times of grief.
Baptism
We are delighted that you're considering having a Baptism or Thanksgiving service at St Nicolas. A Baptism Service is the traditional service in which water is poured over the child's head. In this service, the parents and godparents promise to bring up the child in the Christian faith. A Service of Thanksgiving is encouraged for those who are not ready to have a child baptised, but would like to thank God for their birth or adoption.
We want to give you a warm welcome and to do all we can to make the occasion enjoyable and meaningful for you and your family. We have created the leaflet below to answer as many questions as possible:
Confirmation
Confirmation is for teenagers and adults who have been baptised as children and who wish to 'confirm' the promises made by their parents and godparents.
If you or your child would like to be confirmed, we will begin the process of enrolling onto the next Confirmation Course. This is a group course in which individuals are given the chance to learn about and grow in faith, with like-minded people.
If you would like to register your interest in the next Confirmation Course, please call or write to us at the Parish Office:
Wedding
Congratulations! Arranging a wedding is an exciting time, but it can also be a bit daunting. We have created a leaflet below to answer as many questions as possible. We would be delighted to help with the plans for your special day, so whether you've got firm plans or just want to talk through your initial thoughts, we're here to help.
We have an open policy towards marriage and actively welcome all those connected with the village in any way to be married in the church. We also welcome thanksgiving services to celebrate significant wedding anniversaries or to reaffirm wedding vows.
Find out more by downloading our Wedding Guide using the link below:
Funeral
A funeral marks the close of a human life on earth. As well as being a time to say goodbye to our loved ones and express our grief, it is also the opportunity for friends and family to celebrate and give thanks for the life that has ended and commend the person into God's keeping.
At St Nicolas we are here to offer you support during this difficult time, and want to enable a funeral service which reflects the personality of your loved one.
We also have a bereavement support group which will link you with someone to talk. Please call 07752 854042 to speak with one of our team, or write to us at the Parish office to make arrangements for a funeral:
The Church is with you for your entire life, in good times and in bad times.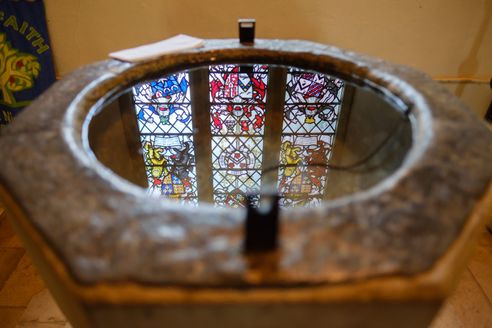 Birth
In baptism, children are welcomed into the congregation, but the Christian faith is about more than just baptism. We have many activities for children and families, such as early musical education, children's bible study, and family services.
Life
The church is with you throughout your life. It is there for you during the transition from your parents' promises to uphold Chrtistian teachings, through to your own decision to affirm your faith in Confirmation.
Death
From earth you were taken, to earth you shall return. The church joins you on your journey both through to the end of your own life, and through grieving the loss of others.